Swollen glands
Swollen glands (also called swollen lymph nodes) are very common in young children, especially under the age of 5. They are usually a normal response to childhood infections such as colds or tonsillitis.
Lymph nodes are part of our immune system. The picture below shows how lymph nodes (glands) are connected by the lymphatic system throughout your child's body.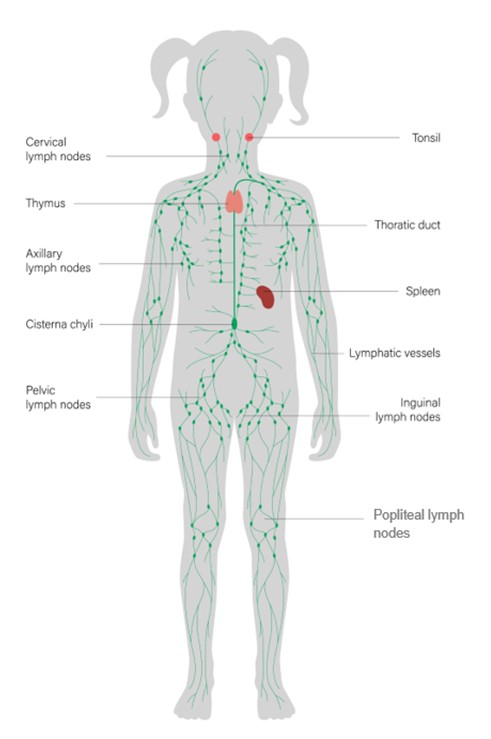 It is normal for lymph nodes to swell near the site of an infection. Neck (cervical) lymph nodes are the most likely to be affected. If your child has a sore throat then you might notice they have swollen glands in their neck.
Lymph nodes less than 2 centimetres in diameter are unlikely to indicate anything serious. Antibiotics are not normally needed.
Children with eczema sometimes have swollen lymph nodes. They will improve with treatment of your child's eczema.
When should I worry?
If your child has any of the following:
A temperature less than 36oC or temperature 38oC or more if baby is less than 3 months
Breathing very fast, or breathing that stops or pauses
Working hard to breathe, drawing in of the muscles below the rib, unable to talk or noisy breathing (grunting)
Becomes pale, blue, mottled or unusually cold to touch
Difficult to wake up, very sleepy or confused
Has a fit (seizure)
Develops a rash that does not disappear with pressure and seems unwell (see the 'Glass Test')
You need urgent help.
Go to the nearest Hospital Emergency (A&E) Department or phone 999
If your child has any of the following:
Continues to have a fever of 38.0°C or above for more than 5 days
Develops pain and redness of the lymph node
A lymph node that is getting bigger quickly
Big lymph nodes, more than 2 centimetres, for more than 6 weeks
Unexplained bruising
Weight loss
Night sweats (where your child's bedding is soaked through in the morning meaning that you need to change the sheets)
Swollen glands in lots of different areas of the body
Leg pains or limp
If prescribed antibiotics and the fever has continued for more than 2 days or the gland has not got smaller after 5 days
Household contact with TB
You need to contact a doctor or nurse today.
Please ring your GP surgery or call NHS 111
If your child has none of the above
Small lymph nodes (less than 1cm) are normal
Watch them closely for any change and look out for any red or amber symptoms
Self care
Continue providing your child's care at home. If you are still concerned about your child, call NHS 111
This guidance has been reviewed and adapted by healthcare professionals across West Yorkshire with consent from the Hampshire development groups.
What should you look out for?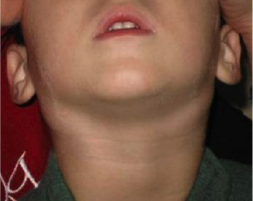 Painless big lymph nodes on both sides of the neck (bilateral) with a sore throat are likely to improve without antibiotics.
Sometimes a large, hot, painful, swollen lymph node may be due to a bacterial infection (bacterial lymphadenitis). This will need antibiotics.
Very rarely, swollen glands may be a sign of less common infections (like TB) or cancer.
How can I help my child?
Use painkillers such as ibuprofen and paracetamol to keep your child comfortable. Please read and follow the instructions on the medicine packet.
When will it get better?
Small nodes in the neck, that can be moved under the skin are simply normal nodes.
Your child should start getting better within a couple of days but their lymph nodes may take 2 to 4 weeks to improve. Small lymph nodes (less than 1 cm) are normal.
Small lymph nodes that are less than 2 centimetres, particularly in the neck, that persist or change in size (sometimes smaller, sometimes bigger) are rarely of any concern and do not usually need further investigation.
Lymph nodes that continue to measure more than 2 centimetres for longer than 6 weeks need further investigation by a specialist doctor. Most of these lymph nodes are likely to be normal.