Asthma Attack
An asthma attack happens suddenly. You may notice worsening symptoms in the hours or days before your child has an attack. That is why it is very important to know what is normal for your child's asthma. Then you will be able to spot when they are unwell and what you need to do. You could keep a symptom diary.
If your child's asthma suddenly gets worse (asthma attack), they will need urgent treatment.
Signs of an asthma attack include:
• Being very wheezy
• Having a tight chest
• Finding it hard to breathe
• Being too breathless to speak is a sign of a severe asthma attack and needs emergency treatment
What should I do if my child is having an asthma attack?
1. Sit your child upright
2. Keep them calm and reassure them
3. Bring their blue inhaler and spacer to them
4. Give the inhaler using the correct inhaler technique. The number of puffs needed will depend on symptoms. See the 'what should I do?' section below
5. If you have given 10 puffs and symptoms have not improved repeat the process every 10 minutes until the ambulance arrives
What should I do?
If your child:
Is too breathless to talk, eat or drink
Has blue lips
Has symptoms of cough, wheeze or breathlessness which are getting worse despite 10 puffs of blue (salbutamol) inhaler every 4 hours
Confused and drowsy
Ring 999 immediately for help. Give 10 puffs of blue (salbutamol) reliever inhaler every 10 minutes until ambulance arrives
Keep child in upright position and reassure them
If your child:
Is wheezy or breathless despite 2 to 4 puffs of the blue (salbutamol) every 4 hours
Has a cough, wheeze or tight chest during the day and night
Too breathless to run, play or do normal activities
Immediately contact your GP and make an appointment for your child to be assessed that day
Give blue (salbutamol) reliever inhaler 4 to 6 puffs every 4 hours
If symptoms persist for 4 hours or more and you have not been able to speak to either a member of staff from your GP practice or to NHS 111 staff, then consider taking them to your nearest A&E
If your child starts to cough, wheeze or has a tight chest but can continue day to day activities
Give 2 to 4 puffs of blue (salbutamol) reliever inhaler every 4 hours until symptoms improve
Make an appointment with your GP or asthma nurse within 24 hours
This guidance has been reviewed and adapted by healthcare professionals across West Yorkshire with consent from the Hampshire development groups.
Asthma attack prevention
The most common triggers are viral infections (coughs, colds and chest infections), exposure to pets, pollen, sudden changes in the weather and exposure to cigarette smoke. Sometimes there is no obvious cause for your child's asthma attack.
Things you can do to reduce the chance of your child having an asthma attack:
1. Get your child's asthma under control
Children with poorly controlled asthma are much more likely to have an asthma attack compared to children whose asthma is well controlled. Make sure your child takes their preventer inhaler regularly as prescribed.
Signs of poorly controlled asthma:
A regular cough at night (nocturnal cough)
Wheezy or more breathless than other children when they run around
Using their blue reliever inhaler more often than expected, for example more than twice a week
If your child has any signs of poorly controlled asthma they need a review. Make an appointment with their GP or asthma nurse.
It is important to have a yearly asthma review with your asthma nurse or GP. Your child is 4 times less likely to end up in hospital with an asthma attack if they have a personal asthma action plan .
'If their symptoms are worse see the nurse.'
2. Get the inhaler technique right
Watch these Asthma UK videos on how to help your child use their inhalers effectively.
It is vital that your child uses their inhalers and spacer correctly.
Your child's asthma will not be controlled if their medicines are not getting into their lungs.
---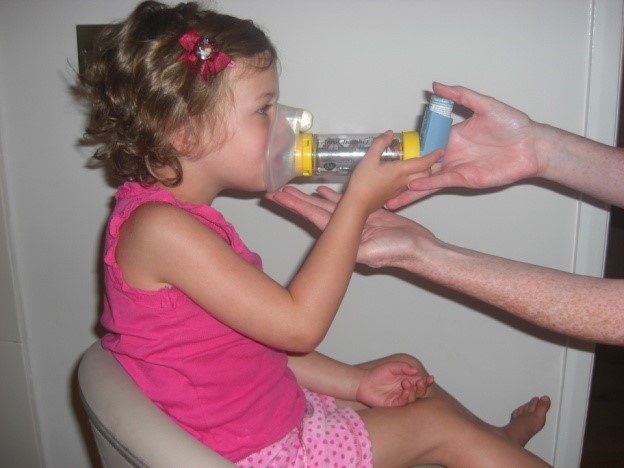 Use an appropriate sized spacer with a mask. A spacer with a mouthpiece can be used if your child is over 3 years old, has a good technique and is not very short of breath.
1. Shake the inhaler well and remove cap
2. Fit the inhaler into the opening at the end of the spacer
3. Place mask over the child's face or mouthpiece in their mouth ensuring a good seal
4. Press the inhaler once and allow the child to take 5 slow breaths
5. Remove the inhaler and shake between every puff
Repeat steps 1 to 5 for each dose
Plastic spacers should be washed before the first use and every month as per manufacturer's guidelines.
See your practice nurse or doctor if you are not sure whether your child is using their inhaler and spacer properly.
3. Avoid triggers where possible
Although it is extremely difficult to avoid your child getting a viral infection or experiencing changes in the weather, you can reduce exposure to common triggers such as pets, pollen and cigarette smoke.
Even when adults smoke away from their children, smoke on their clothes and hair can make their child's asthma worse.
Visit the Healthier Together page on how to stop smoking.
4. Your child should have an influenza immunisation every autumn (the flu jab)
Not only can flu trigger an asthma attack in your child, your child is more likely to experience severe influenza if they have asthma. Protect them by having them vaccinated every year.
For more information about the flu jab see our childhood immunisations page.
Video Carousel
Now showing: Video 1 of 2
Where should you seek help?