Nose bleeds
Nose bleeds are a common childhood problem. Children usually grow out of nose bleeds by age 11.
Normally they don't last long and can be managed at home.
Causes of nose bleeds include:
a minor injury for example a bump to the nose
nose picking
allergic rhinitis (hayfever)
foreign body (something stuck up the nose)
a bleeding disorder (very rare)
The bleeding is usually from the front part of the nose. The amount of blood may seem like a lot but it is rare for children to lose so much blood that it causes any problems (such as anaemia). This only happens with frequent, heavy nose bleeds over several weeks or months.
If your child's nose bleed was caused by a head injury, visit our head injury page for more advice.
The advice below should help you decide if your child's nose bleed needs further help or if it can be managed at home.
If your child has any of the following:
Takes medication to stop blood clotting for example warfarin, heparin or aspirin
Under 2 years old
Bleeding lasts more than 30 minutes despite first aid treatment, see below
Bleeding from both nostrils (suggests a nose bleed from the back of the nasal passage)
If despite sitting your child upright and getting them to lean forward, they are choking on the blood (this suggests a nose bleed from the back of the nasal passageway)
Their nose looks out of shape after an injury
If your child has any of the following:
Discharge from the nose as well bleeding as may be due to something stuck up their nose
Frequent small nose bleeds that respond to first aid
If your child has nose bleeds and bruises on their body
A family history of a bleeding disorder
You need to contact a doctor or nurse today.
Please ring your GP surgery or call NHS 111 - dial 111
(first aid for a nose bleed should be started at the same time – see below)
If none of the above red or amber features are present:
Use the advice below to care for your child at home
If your child continues to get frequent nose bleeds, please arrange to speak to a health professional
Self care
Continue providing your child's care at home. If you are still concerned about your child, speak to your health visitor, local community pharmacist, or call NHS 111 – dial 111
This guidance has been reviewed and adapted by healthcare professionals across West Yorkshire with consent from the Hampshire development groups.
First aid for nose bleeds:
Keep your child calm by giving lots of reassurance
Sit your child up and lean them slightly forward (see diagram below)
Encourage them to breathe through their mouth
Apply constant pressure for 20 minutes to the soft front part of the nose by pinching it between index finger and thumb
Encourage them to spit out the blood. Swallowing blood can make children sick which may restart the nose bleed
It is tempting to release the pressure from the nose to check if the bleeding has stopped. Do not do so until the 20 minutes has finished
Keep the area cool to help stop the bleeding. You can offer your child a cold drink or an ice lolly to suck. An ice pack can be wrapped in a tea towel and placed on their forehead or the top of their nose
If the bleeding doesn't stop, recheck that you are squeezing the soft front part of the nose and apply pressure for a further 10 minutes.
If at this point, there is ongoing bleeding then call an ambulance via 999. Calmly continue applying first aid measures until they arrive.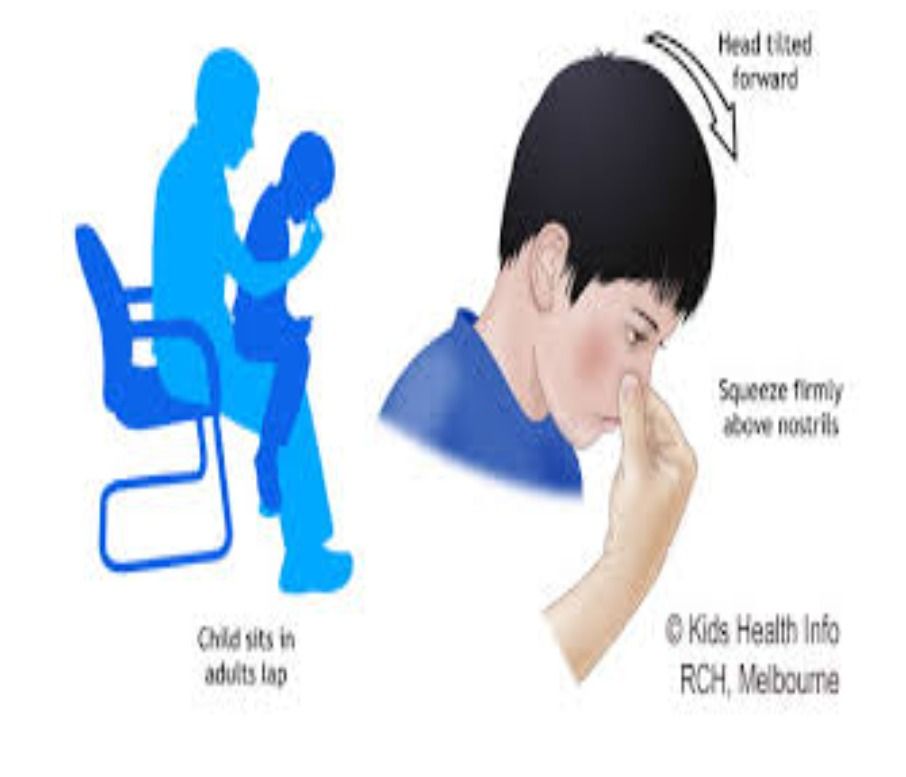 After the nose bleed:
If the bleeding has stopped then for the next 24 hours your child should:
Not pick or blow their nose
Avoid vigorous exercise and sport
Avoid straining and heavy lifting
Avoid hot baths, showers and warm drinks
How to prevent future nose bleeds:
If your child's nose is dry and cracked, apply a petroleum-based jelly (for example Vaseline) to the nostrils twice each day for a week. This can be done by using your little finger and gently rubbing it on the inside of the nose. Do not use this method in children under 4 years of age as they are unlikely to sit still and their nose may be injured.
If your child is suffering from constipation, increase their fluid intake and the amount of fibre in their diet. Ask your doctor or local community pharmacist for a stool softener to prevent them from straining.