My baby has a hernia
Hernias are caused by an opening in the muscle of the abdominal (tummy) wall which allows the intestines (bowel) to move in and out.
They can happen around the belly button (umbilical hernia) or in the groin area (inguinal hernia).
They are common in babies, especially premature babies.
Umbilical hernias rarely require treatment but inguinal hernias need an operation to fix them.
When should you worry?
If your baby has any of the following:
Lump (hernia) is painful
Lump (hernia) is red
A swollen tummy
Green vomit (like the colour of spinach or green washing up liquid)
Pale, mottled or abnormally cold to touch
Extremely agitated (crying inconsolably despite distraction)
Floppy or very lethargic (difficult to wake)
You need urgent help.
Go to the nearest Hospital Emergency (A&E) Department or phone 999
If your baby has any of the following:
Umbilical (belly button) hernia and age 4 years or over
Any swelling in the groin area
Mild discomfort over the lump
Irritability
Feeding problems
Difficulty pooing
You need to contact a doctor or nurse today
Please ring your GP surgery or call NHS 111
We recognise that during COVID, at peak times, access to a health care professional may be delayed. If symptoms persist for 4 hours or more and you have not been able to speak to either a member of staff from your GP practice or to NHS 111 staff, then consider taking them to your nearest A&E
If your baby has an umbilical hernia with none of the features above in red or amber
Continues to feed well
Has plenty of wet and dirty nappies
Baby wakes up or cries regularly for feeds
Additional advice is also available to young families for coping with crying of well babies.
Self care
Continue providing your child's care at home. If you are still concerned about your child, call NHS 111
This guidance has been reviewed and adapted by healthcare professionals across West Yorkshire with consent from the Hampshire development groups.
What is an umbilical hernia?
An umbilical hernia is a bulge at your child's belly button. This happens when the opening for the umbilical cord doesn't completely close after birth. This hole allows bowel to move in and out causing a small bulge. The hernia usually appears when your baby is 2 to 3 months old. It may look larger if your baby cries, coughs, or strains and may look smaller if they are lying down.
Is an operation needed for an umbilical hernia?
Most children will not need an operation. Often the hernia will get better by itself in the first couple of years of life. If the hernia is very large or if the hernia is still there when your child reaches age 4 they may need an operation to repair it.
What do I do if I notice an umbilical hernia?
No action is needed if your child is under 4 and otherwise well. If your child is eating and drinking well, going to the toilet normally and has no pain you don't need to worry.
If your child is over 4, you can speak to your GP. They may refer you to the Paediatric Surgeons who will assess if an operation is needed.
Surgery to repair an umbilical hernia is cosmetic and is done to change the size of a 'sticky out' belly button.
When should I worry?
Seek urgent medical help in a child of any age if their hernia becomes painful.
The bowel may have got stuck in the hernia which may need an urgent operation. This is extremely rare in children.
What is an inguinal hernia?
An inguinal hernia is a bulge in the groin area.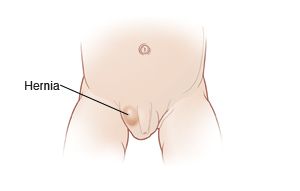 They are common in children, particularly in premature babies. They happen when there is a small opening in the muscle wall in the groin which allows bowel to bulge out causing a lump in the groin. In a girl sometimes the ovary can bulge out instead of the bowel. The bulge may look larger when your baby strains or cries. A hernia can happen on either side of the groin or sometimes on both sides. Your child will need an operation to fix an inguinal hernia.
Why is an operation needed?
An operation is needed to repair inguinal hernias soon after they are seen. Usually the bowel can move in and out easily through the opening but sometimes the bowel can get stuck. If the bowel gets stuck it may not get enough blood to keep it healthy and your child will become very unwell.
What do I do if I notice an inguinal hernia?
If you notice a new lump in your child's groin you need to seek medical advice. If your child is happy, feeding well, pooing normally and the lump doesn't appear to be painful you can speak to your GP. They will refer you to see a Paediatric Surgeon for an operation to fix the hernia.
Children under 6 months old should be referred urgently and have their inguinal hernia fixed soon after it appears. It is safe for older children to wait longer before the hernia is fixed but they should still be referred to a Paediatric Surgeon when a hernia is seen.
If any of the following are present you should seek help urgently. An urgent operation may be needed.
The lump is painful
The hernia is out and your child is crying and does not settle when fed, cuddled or changed
Your child is vomiting and not pooing
Your child is unwell